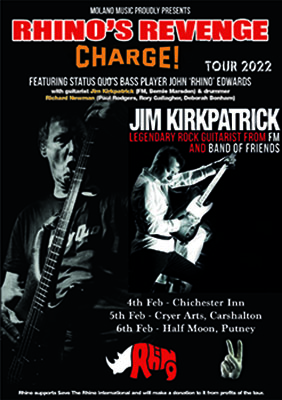 poster photo by Saskia Lavaud

Rhino's Revenge Returns!

In a surprising but very welcome twist, following the cancellation of the UK tour a week ago, Rhino's Revenge is delighted to announce three shows in three days next month.

Although medical advice is that Rhino should rest until the end of this month, his recovery from Covid-19 continues apace and he has been given the all clear to rock again from February. "I'm utterly gutted about the tour, but these three shows are just the tonic and I am so excited about being able to get back in the saddle."

Chichester,The Chichester Inn - Friday, February 4th - Tickets
Carshalton, Cryer Arts Theatre - Saturday, February 5th - Tickets
Putney, Half Moon - Sunday February 6th (2:00pm) - Tickets

Note that the Putney show is a matinee performance (2:00pm), that there will be no VIP tickets for any of the shows and that RR's own Jim Kirkpatrick will open all shows with a solo set.

Rhino's Revenge thanks our good friend JJ of A Startled Chameleon for offering the band these shows. We appreciate it.


Charge! - the new live album from Rhino's Revenge,
is available now.

Available in hand-numbered, limited edition quantities of both 12" gold vinyl (10 tracks) and Digipak CD (16 tracks) formats.



Tracks taken from The Rhino's Revenge 2018/19 tours:


01 - Two Way Traffic
02 - Secretary
03 - Busy Doing Nothin'
04 - One Note Blues
05 - Obstruction Day
06 - Never Too Old
07 - Before You Accuse Me
08 - Lucinda

09 - Mine All Mine
10 - Belavista Man
11 - My Name Is Stan
12 - Cougar
13 - The Strange One
14 - Republican
15 - Gravy Train
16 - Bad News








Rhino's Revenge has recorded a new song to raise money for the backbone of the live music industry - the crew - in these extraordinary times.

All proceeds from views and sales will go directly to them via the charity Stagehand's Covid-19 Crew Relief Fund

Please support it by forwarding the link to the video to everyone in your contacts books, across all media, social and otherwise.

Spread the word, make a difference and Rock Out To Help Out. Thank you.



| | |
| --- | --- |
| Donate directly to Stagehand's Covid-19 Crew Relief Fund here: | |




Proceeds from sales and streams of this song will go to Stagehand's Covid-19 Crew Relief Fund:
Rhino's Revenge II

01 Tomorrow Is Today.
02 Famous.
03 New New New.
04 All the Girls Love A Bastard.
05 Powerplay.
06 Secretary.
07 Cougar.
08 My Name Is Stan.
09 Busy Doing Nothin'.
10 One Note Blues.
11 Black Widows.
12 Take 'Em Down.



Rhino's Revenge II CD

£11.99 (plus p&p)